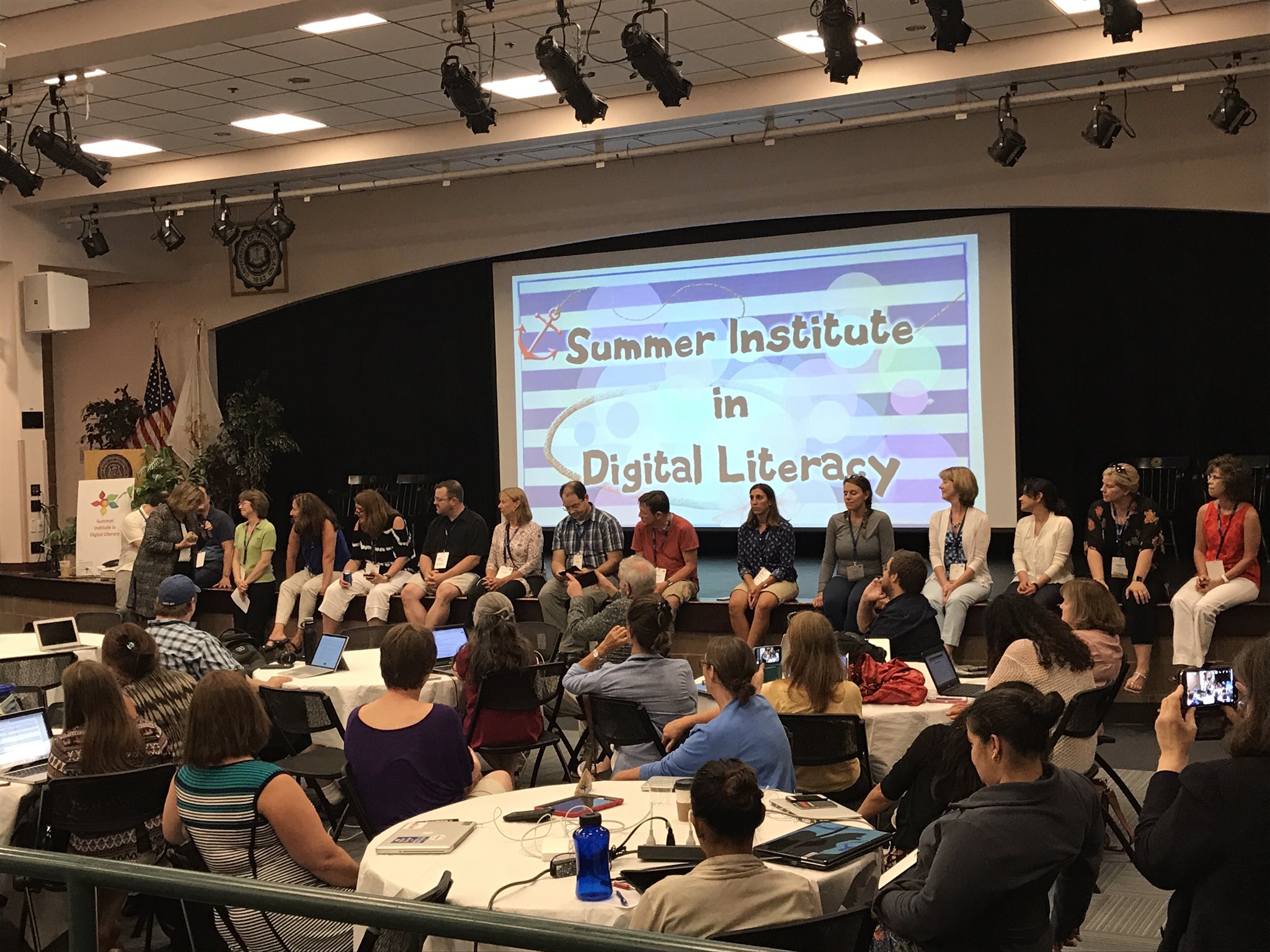 As I mentioned earlier in the week, I had an opportunity to collaborate and learn with about 130 other teachers, librarians, and higher ed faculty at the Summer Institute in Digital Literacy. Given that this was my second go-round, I had some idea of what would happen day-to-day, and over the arc of the entire week, and again the institute met and exceeded my expectations.
First, I appreciate having had the chance to collaborate with Jill Castek on our Thursday keynote, "Deepening Assessment, Digitally." Here are the slides, as well as many additional links.
[googleapps domain="docs" dir="presentation/d/1s3NSi4v7bPJkZGxif8Xdrz9b6oqXtUaDsM3wBtVP8a0/embed" query="start=false&loop=false&delayms=3000″ width="480″ height="389″ /]
Resources from the Session
Further Your Learning
The other key takeaway for me — which is really just a reiteration of what I have learned from my colleagues in the National Writing Project — is that relevance, relationships, and reflection are at the heart of learning, for both kids and adults. No secret here; just a gentle reminder that great learning takes all three of these elements, and those elements are fostered through sustained immersion in an intensive, sometimes disruptive, yet ultimately supportive and growth-oriented environment.
Both summers at URI have provided this for me, and in a slightly different manner than what I experience in NWP work. One protocol that we use at the end of the day, both with participants and faculty, is a group discussion of "highlights and lowlights." Not meant to be a space for problem-solving, it is a structure that allows us all to share the best and worst part of each day in a setting where our colleagues listen empathically. While I was quite tired at the end of each day, those conversations were rich, and I am still thinking through what everyone brought to them.
So, the reminder that these elements all matter is a good one, and knowing that there are multiple paths to pursue as we lead our colleagues in professional growth is a good reminder, too. I'm heading back to Michigan with a renewed appreciation for what it takes to immerse one's self in a digitally-rich learning experience, and that we need to take time to build those three R's of a true twenty-first century education: relevance, relationships, and reflection.
---

This work is licensed under a Creative Commons Attribution-NonCommercial-ShareAlike 4.0 International License.