This has been both a personally and professionally fulfilling week for me, as I was able to travel with colleagues from the US to participate in the Writing Research Across Borders III conference in Paris. Along with the sightseeing, which has been wonderful, the general spirit of inquiry and collegiality from around the world has been inspiring. Here is a short recap of some of the key moments.
Arthur Applebee's Keynote
As I wrote earlier this week, Applebee shared some relatively unsurprising news. While I had wished there might be something more optimistic in his speech, most of what he shared has also been reported in his latest book. Kristen Turner, my friend and colleague, will share a post on the Applebee keynote on the Writers Who Care blog soon. In short, as teacher educators concerned with the quality of writing instruction in our country — as well as the generally lackluster integration of digital literacy throughout the curriculum — we hope that the insidious effects of standardized tests can be stopped before any kinds of authentic writing instruction are stamped out forever.
Session on Automated Writing Evaluation
There were many (competing) ideas about the purpose, quality, and overall effects of automated writing evaluation. In sum, Carl Whithouse made the case that we have seen a shift from automated essay scoring (AES) to automated writing evaluation (AWE), and those slight changes language are not inconsequential. When the terms of the argument move beyond simply "scoring essays" (which, according to ETS presenters there, was basically a count of grammatical and vocabulary features) to "evaluating writing," this raises a new level of concern for those of us who are teaching writing. No longer is it enough to take the either/or argument, for or against. We now need a much more nuanced understanding of what AWE does as well as how it works; in turn, we can still make compelling arguments for the value of teaching writers, not just evaluating single pieces of writing.
Panel on Writing, Language, and New Media
In our session, we were able to bring in multiple voices connecting issues related to reading, writing, digital literacy, and the uses of technology. You can find notes from the session here, and my short summary is that many of us are wrestling with the same questions about technology's role in effective teaching and learning, whether we are thinking about our youngest writers or undergraduates or adult learners who work as translators. There are many shifts that we must consider, including what Daniel Perrin and I are framing as a difference between "focused writing" and "writing-by-the-way." I was happy to present with Kristen and also to have another Michigan colleague, Sue Sharma, share her work on how she has developed an online reading clinic. I appreciated the many voices — of both presenters and participants — that made our session interactive and useful.
Panel for the Handbook of Writing and Text Production
This panel shared five different perspectives on the state of the field and the way we pursue scholarship: theory and methodology, authors, media and mode, genre, and domains (personal, professional). These five perspectives — and the scholars gathered to write and discuss them — are useful as ways for us to consider what is happening in writing studies. I was honored that Daniel invited me to be a part of this work on mode and media perspectives, and I shared my 10 minute overview of possibilities and problems we face from this perspective. We then broke into small groups and had a robust discussion about three "problems" from this perspective: what writing actually is, what the unit of study is or could be, and finally our ability to examine both process and product. Our small group conversation was quite productive, and I made some connections to colleagues also interested in these issues, so I hope our exchanges continue.
Kristen Turner's Digitalk Session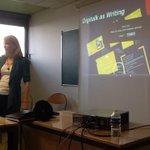 For all the years we have known one another and projects that we have collaborated on, I have never seen Kristen present specifically on her work with "digitalk." Since our session ended early, I was able to sneak into her session and gain a better understanding of the work she has done. In short, she positions "digitalk" — the types of moves that teens make in social networking, texting, and instant messaging — as both an act of code switching and individual identity making. I was most interested in how teens described themselves though the moves they made (for instance, one teen used "5" instead of "s" in his messages and another discussed how many Ys she would put at the end of "HEY" to indicate a quick hello to an acquaintance ("HEY…") or as a way to show she really like a boy "HEYYYY…"). I really appreciate Kristen's approach to coding and analyzing her data, and look forward to doing more of this work with her in the future for our research on digital reading.
New Literacies in the Elementary Classroom
The final session that I was able to attend included a number of scholars from Canada, Sweden, and the US, each focusing on some aspect of new literacies in the elementary classroom. One team described the ways that teachers worked in PLCs as inquiry groups, the next did close analysis of students' digital work, and the final one examined one kindergarten teacher and his efforts over six weeks to teach a digital storytelling unit. I was most impressed with the conversation that we had afterward, and the substantive issues that we are all wrestling with about instructional moves and assessment of digital writing. My wife would be proud of me, as I even mentioned my own book to the audience as a potential resource. I've emailed all the presenters and hope to stay in touch for future collaborations.
Au revoir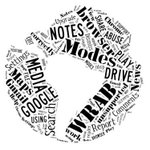 My experience with Writing Research Across Borders III has, indeed, lived up to it's billing. I've been excited about the possibility of this conference since missing the first two, both in the US. As I was tweeting out ideas this weekend, I was engaged with colleagues both here in Paris and back home, and I think we already have some session ideas for WRAB IV in Bogota. I'm finishing up this blog post now so I can prepare for departure from CDG, and a return home for some much needed rest and sharing pictures of Paris with my family. Thanks to all who made WRAB III possible, and safe travels to everyone, too.
---

This work is licensed under a Creative Commons Attribution-NonCommercial-ShareAlike 4.0 International License.